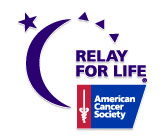 This is Faithpoint's fourth year participating in Frederick County's Relay for Life and we are "United" this year because we are partnering with other Methodist churches in the area to form one knock out fundraising and walking team.
Last year with additional support from Middletown United Methodist Church we raised $2,212 to support the American Cancer Society, so this year with the combined efforts of Faithpoint and our sister churches New Hope, Middletown, Wesley Chapel, and Taylorsville we are striving to reach our new goal of $3,000!
As a team, we are taking action to help eliminate cancer as a major health problem. At our Relay event, we will take turns walking around the track to raise money and awareness to help the American Cancer Society in their lifesaving mission.
Please join our team or make a donation. Saving lives from cancer starts one team, one participant, one dollar at a time.