Good Morning FaithPoint,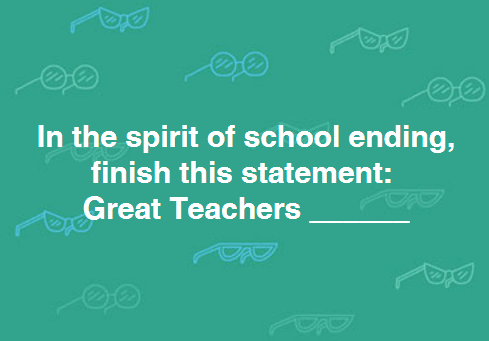 Summer is upon us and this week has had the temperatures to prove it. For many of us this means a change of pace. But as we get into the summer time, think about those teachers that you have had throughout your life (in school and out) that made and impact. Then think about how you would finish this statement: Great teachers _________ (let me know your answers by replying to this email). Last weekend we looked at the Holy Spirit as a critical person of the trinity. We saw that we need to stir the spirit in our lives daily. This weekend, we have a chance to be in conversation about how the Holy Spirit is a great teacher for each one of us. As I have been studying the Spirit though out scripture this week I can't think of a better word than teacher to talk about the way the gift of the Holy Spirit brings out the best in all of us. Not only will we have a chance to be in fellowship, but we have some great music, good conversation and we will be praying over our summer camp students and volunteers that will be in ministry at Best Week Ever camp.
I am excited to be with you this weekend as we continue our Holy Spirt series and being bold in our faith and trust in God to pray, "Come Holy Spirit, come." I know God is continuing to work in powerful ways at FaithPoint. Let's claim this summer to be one of the Spirit and learn from where it would take us. See you soon.
Be God's,
Pastor Chris
Focus Verse:
5 But anyone who needs wisdom should ask God, whose very nature is to give to everyone without a second thought, without keeping score. Wisdom will certainly be given to those who ask.

James 1:5
Weekend Spotlight: Second Chances Garage
This weekend is Father's Day weekend. 
During worship we are going to be spotlighting the ministry of Second Chances Garage. Second Chances is a garage that offers affordable vehicles and service for low-income individuals who need reliable transportation to get to work and a donation to Second Chances will be made in honor of the Fathers, and those who are like fathers to us.
Still need to register your VBS camper or volunteer?
DATE
July 10 – 14, 2017
TIME
9:00 am – 12:00 pm
Urbana Middle School
Preschool (potty trained) through grade 6
Click here to REGISTER a Student
or to volunteer
Contact mherman@faithpointum.org for more information.
June 25th
We are worshiping in Urbana district park together with Wesley Chapel UMC. It is going to be a great time to worship with one of our partner churches, reach out the community and have some amazing worship. We will be offering bottled water to those in the park and inviting them to worship. Also, the offering collected during that worship will go directly to help cover the costs of our VBS!! We are really excited about the weekend and potential to connect with the greater Urbana community and let them know what we have going on 
this
 summer. Music begins at 
10am
 and worship at 
10:30
.
FOLLOW 

THIS

 LINK
 to use our Facebook Event to invite friends and neighbors to join us!